Something About Surface Cleaner
Keeping things clean and tidy can bring so many goodness to Ourselves,however,it means you should do cleansing everyday,which is so hard to most of us.So we need something special to help us make our home clean and bright,here I want to introduce this Surface Cleaner to you.
Our Stainless Steel Surface Cleaner is pretty large and it is built for not only residential and home use, but also for small business use.
The aluminum handle that comes equipped with this Surface Cleaner is more than light enough to handle comfortably.And the zero wall clearance makes sure that you are able to clean all the way up to the wall with absolutely no strip of grime or dirt left behind on the wall.
When you use our Surface Cleaner,you are able to clean what you need to be cleaned a lot faster and with a lot less effort.It is much better to use a cleaning head than a Nozzle,since the cleaning head is also able to get a larger amount cleaned in less time.However,you might still want to use your zero degree nozzle on areas that the head can`t get into,such as in between small cracks and crevices.Also,a zero degree nozzle has the ability to spray deep down and hard into areas that you can`t reach by hand.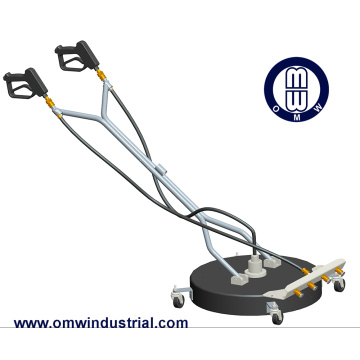 So,where can yo get this useful and magic Surface Cleaner?Please take a look at omway machinery factory,we are manufacturer of different kinds of High Pressure Cleaning Tools,such as Surface Cleaner from 8" to 60";Surface Cleaner with Vacuum Function,Water Broom Function, Water Blaster Function and other High Pressure Cleaning Tools.